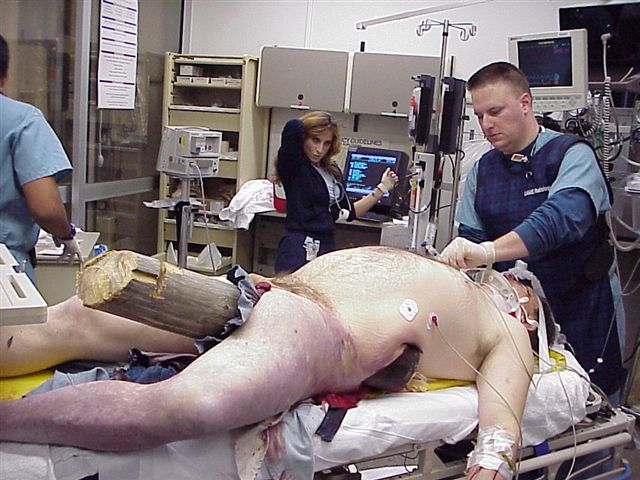 2923 views
Suislide

03/24/2004
OH DEAR GOD

fallout

03/24/2004
omg how .....how does somthing liek this happen......like seriously its implaed hom from his buthole to his left kidney.......... wtf!

M0nKeY

03/25/2004
The "lady" in the back looks like a man.

Suislide

03/25/2004
who the fuck looks at the background in a picture like this

M0nKeY

03/25/2004
me

dazzled

03/25/2004
:(

waiting4redbloodblue

03/26/2004
Will my insurance cover this. I mean it was just me and some of the boys out hunting. I passed out and woke up like this.

Shn

03/26/2004
Too much lube...

bigd6864

03/26/2004
someone got too kinky

Suislide

03/26/2004
the image archive is more active then the forum

lemontea

03/28/2004
there's a good reason -- this is fucking hilarious

john

04/01/2004
dont ayll have some respect. th mf is fucking dead geez

Suislide

04/01/2004
yeah? so what are you getting at

were all sick freaks

Anonymous

04/03/2004
bullshit hes dead ............ he quite alive

Shn

04/04/2004
let's hope he IS dead then.

thauglor

04/05/2004
I think he's alive as well..... just totally screwed.... (pun intended I guess...) looks like the log cut off circulation to his leg....ouch.....

guy in bed

04/16/2004
yeah my wood is definly the biggest of the bunch

me

04/25/2004
Rather be dead than alive like that!

livingdeadgirl

05/14/2004
daddy!!!!! *tear*

blabla

06/19/2004
there are other dildos than this

Ninj4

07/20/2004
that has got to hurt
not only phsyically but think
"mr.donnovan is excused from work because he had a giant log shoved up his rectum"

Trick69

09/04/2004
Screw his ass, his dick is gone.

Anonymous

02/09/2008
owned

Anonymous

02/09/2008
owned

olimar

08/06/2013
just to make you feel better i'll sing the campfire song song but before i start BIG words means fast and these words means calm
♪lets gather round the campfire and sing our campfire song. our c.a.m.p.f.i.r.e s.o.n.g song.and if you think we can sing it faster,then your wrong. but it will help if you just sing along.bum bum BUM. C.A.M.P.F.I.R.E S.O.N.G SONG C.A.M.P.F.I.R.E S.O.N.G SONG AND IF WE CAN SING IT FASTER,THEN YOUR WRONG! BUT IT HELP IF YOU JUST SING ALONGGGGG! C.A.M.P.F.I.R.E S.O.N.G SONG.PATRICK! SONG C.A.M.P.F.I.R... SQUIDWARD...GOOD! but it will help,it'll help if you just sing ALONGGGGG! OH YEAH!♪ so did make you feel better just anwser.anybody just tell me

GotenDoesGaming

09/11/2014
A wood in his penis? Nasty! What happened too him?