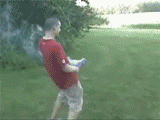 3497 views
Shn

03/17/2006
i hope that hurt!

erica

03/17/2006
i think it did

damakrell

03/22/2007
hahahahahahaahhahahahaha!

damakrell

03/22/2007
if any of you see that guy tell him to read the instructions on the friggin fire cracker... bitch.

fallout

03/22/2007
its a mortar dumb ass!

BallSak

03/22/2007
fallout, why are you such a dickhead? is it coz you're asian ? ;)

fallout

03/22/2007
yes infact im http://www.mindcontroll.com/imagearchive/picture1168.html this guy. and im a dick head because im a fuckin american and can do just about anything i want unlike u in ur communist fuckin habeeb country...why dont u just put on ur burka and show off ur eyes....god thats gay! why would u do that?! your gay arent you! fuckin homo!

BallSak

03/27/2007
lol, you're easily wound up. hit a nerve eh? ;)

olimar

08/08/2013
HOLY SHIT!that was so cool.i can see this every single fuckin day! :D

Trevon

12/01/2017
Your answer lifts the inncgliletee of the debate.