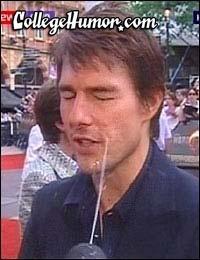 3235 views
Suislide

06/23/2005
it looks like hes taking a cumshot heh

damakrell

06/28/2005
whoever did that to tom cruise should better pray to who ever he prays to. cause if i met you and had half a chance i'd slap you so hard you'd be seeing in black and white for weeks on end.

Shn

06/28/2005
this previous comment can only mean one thing:

damakrell is tom cruise !!!

fallout

06/28/2005
or gay for him

Genocide

08/06/2005
totally gay for him

ryondo

01/08/2006
The flower in the button hole got Tom everytime.

Daniel

11/28/2015
The closes criuse port to Chicago is New York City and that's probably also the flight with the lowest air fare. There are several criuse lines departing regularly from the three (3) ports in the New York area. Therefore you will have a variety of criuse lines and destinations including, New England/Canada, Bermuda, the Bahamas, and the Caribbean. Two of the New York City criuse departure ports are located in Manhattan and Brooklyn, and the other is located in Bayonne, New Jersey. Here are links to the ports:Manhattan/Brooklyn:These criuse lines criuse from this port:Carnival Cruise LinesNorwegian Cruise LineCrystal CruisesCunard Cruise LineHolland America LinePrincess CruisesBayonne (Cape Liberty) criuse port:Royal Caribbean and Celebrity Cruise lines sail from this port.When you are considering criuses consider also the other major ports in Florida, Port Canaveral, and Port Everglades (Ft Lauderdale). You can consider and compare air fares from Chicago to Miami or Ft Lauderdale for criuses from both Miami and Port Everglades. For criuses from Port Canaveral you would need to fly into Orlando, Fl.All of these criuse ports will require an expense to get from the airport to the criuse port. Ft Lauderdale/Port Everglades, and Miami are the cheapest transfer options. The port Everglades criuse port is right next to the Ft Lauderdale Airport.The price of your air fare will vary according to when you buy your ticket. But you can go on a web site like Expedia or Travelocity and search to see which offer the best fare on a date like maybe 3 months from now.